Census on CD
If trawling through reels of census microfilm in a windowless, airless basement in the old PRO or in a record office, library or family history society isn't your favourite past-time, why not browse through those records in the comfort of your own home?
With the use of personal computers becoming more widespread, the ideal solution to making the census records easily accessible to the general public, was to transfer those records from micro-fiche and film to CD-ROM.
S&N Genealogy Supplies/British Data Archive, a UK-based family-run company, is a pioneer in this field.
---
Lancashire census CDs - easy to use
The Lancashire census images can be viewed using the Adobe Acrobat browser provided with the CDs. They are bookmarked by piece number, and street or area indexes are also provided, enabling the user to locate their particular area of interest and the sub-district or piece number which covers that area. Once images are displayed on your screen, you can zoom in and out, move the image around, and even rotate the image 90 degrees, something that can be useful when printing.
What sets them out from the competition is the quality of their products. Each page has been scanned several times to get the best possible results. If some are missing or unreadable on the original microfilm or fiche, those images are obtained and included on the CDs.
S&N census CD sets cover all English and Welsh counties, even if some of those counties are not economically viable.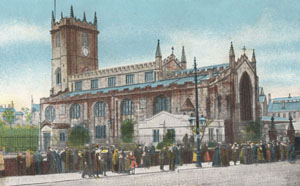 ---
Census CD Reviews
March 2011
This useful seven-DVD set consists of images of the 1841 census enumerators' books for the historic county of Lancashire. This differs from the modern county and includes some towns which are no longer part of Lancashire, such as Warrington and Barrow-in-Furness, as well as the cities of Manchester and Liverpool. Read full review...
January 2011
Jersey 1901 Census & Devon 1857 Gazetteer and Directory
William Humphries reviews this month's data CDs for family historians. Read full review...
November 2009
This four DVD set comprises images of the enumerators' books for the 1861 census of Lancashire, and also includes a places index and street indexes to the larger towns and cities. Read full review...
(Reviews from GenealogyReviews.co.uk)
---
Lancashire Census Availablility on CD-ROM and Online
Year

Census Pages
on CD-ROM

Searchable Index
on CD-ROM

Searchable Index/Transcripts
Online

1841

1851

1861

1871

1881

No

1891

1901

1911

No

No
The census and official records of birth, marriage and death do not go back as far as parish records. Parish Records started in 1538 when Thomas Cromwell, the Vicar General to King Henry VIII, declared that all marriages, christenings and burials should be recorded. Lancashire Parish Records are a very useful resource for the years before the census began. A wide range of Lancashire Parish Records is available on CD and some are now online.
To Order you can do one of the following :