Case Studies
---
Lawrence Stephen Lowry
A deeply sensitive and creative man, Lawrence Stephen Lowry was born in Stretford in Lancashire in 1887. He showed the first signs of artistic ability at a young age, but came from a typical working class background and was only able to afford art lessons when he began working as a clerk.
He then became a rent collector, walking all over Manchester to take rents, and documented the locations and encounters he experienced in his paintings — later saying, "I'll always be grateful to rent collection, I've put many of the tenants in my pictures". He kept this job secret, not wanting to have his painting thought of as a weekend hobby.
His early work displays a talent for precise draughtsmanship and a keen eye for the humorous and surreal — he was able to capture people with just a few strokes of paint, and painted many pictures of both typical and unusual street scenes around Manchester — groups of children playing, odd loners on the street, grim and comedic urban faces.
His fame mainly comes from being the 'matchstick men' painter — a somewhat dubious accolade, as his paintings were often spoken of derisively in these terms. In reality, they depict honestly and movingly the daily life of thousands in the newly industrialised Manchester of the time. He painted factories, mills, and people streaming to work in them in his 'industrial landscapes' — previously, the word 'landscape' was only attached to images of rural idylls, but Lowry's paintings showed instead the types of urban landscape experienced by the vast majority of the populace. He used a muted palette of paint colours, emblematic of the sooty greys and reds of bricks and stones used in the mills, factories and terraced streets of the city.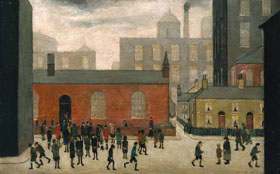 He died in 1976, at a time when his work was becoming very well received critically, and his status as one of the country's favourite artists was confirmed in 2000 by the building of a new art museum in Salford called The Lowry, which houses an important collection of his work.
At the time of the 1891 census he was living in Barton Upon Irwell, Stretford, Lancashire, with his parents, Robert and Elizabeth. With that information in hand, I set out to look for his census record in the Lancashire 1891 Census CD set from British Data Archive.
I decided to have a look at TheGenealogist.co.uk and searched for Lawrence Lowry in the 1891 census transcripts, which found him at Barton Upon Irwell, Stretford, Lancashire. The transcript also told me that the census page could be found on CD 16, RG12 / 3157 / Folio 108a. From here I decided to find Lawrence Lowry on the 1901 census, so I went to rootsuk.com, searched for a 13 year old Lawrence Lowry and found he had moved to South Manchester, with a listed occupation of "School Boy".


Start building your family tree today
(Powered by TreeView)